COVID-19 Vaccines
Status:
The U.S. Food and Drug Administration has given emergency use authorization to two COVID-19 vaccines with additional vaccine candidates under review in the coming weeks. The first vaccine doses arrived in Washington on December 14, and the state began distributing them according to its vaccine plan. The state is using a science-based approach for distribution and is prioritizing front-line medical workers and long-term care facility residents for the initial doses. The second vaccine received authorization on December 18.
During this initial phase, it is important for everyone to continue following COVID-19 prevention guidelines such as wearing a mask, washing your hands, and continuing to social distance.

About the Vaccine:
The Pfizer-BioNTech COVID-19 vaccine is a two-dose vaccine with the two doses given 21 days apart. Clinical trial data show the vaccine is 95 percent effective at preventing COVID-19 infection starting seven days after the second dose. You will not be considered fully protected until 1 to 2 weeks after receiving the second dose. The clinical trials revealed no major unanticipated adverse events.

The Moderna COVID-19 vaccine is also a two-dose vaccine with the two doses given 1 month apart. Vaccine use was authorized for individuals 18 years or older and was shown to be 94.1 percent effective at preventing COVID-19 through clinical trial data.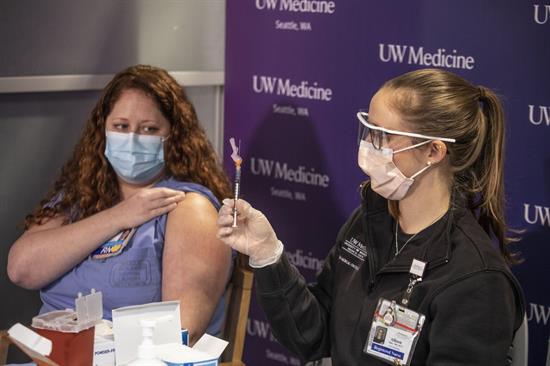 (Steve Ringman | The Seattle Times)
Frequently Asked Questions:
Information about the virus and the vaccine is evolving quickly. If you have questions about the vaccine, its distribution, safety, and effectiveness, the best source of information will be the Washington State Department of Health's COVID-19 vaccine website.

For information about the vaccine by county, see below: