Jobs and the Economy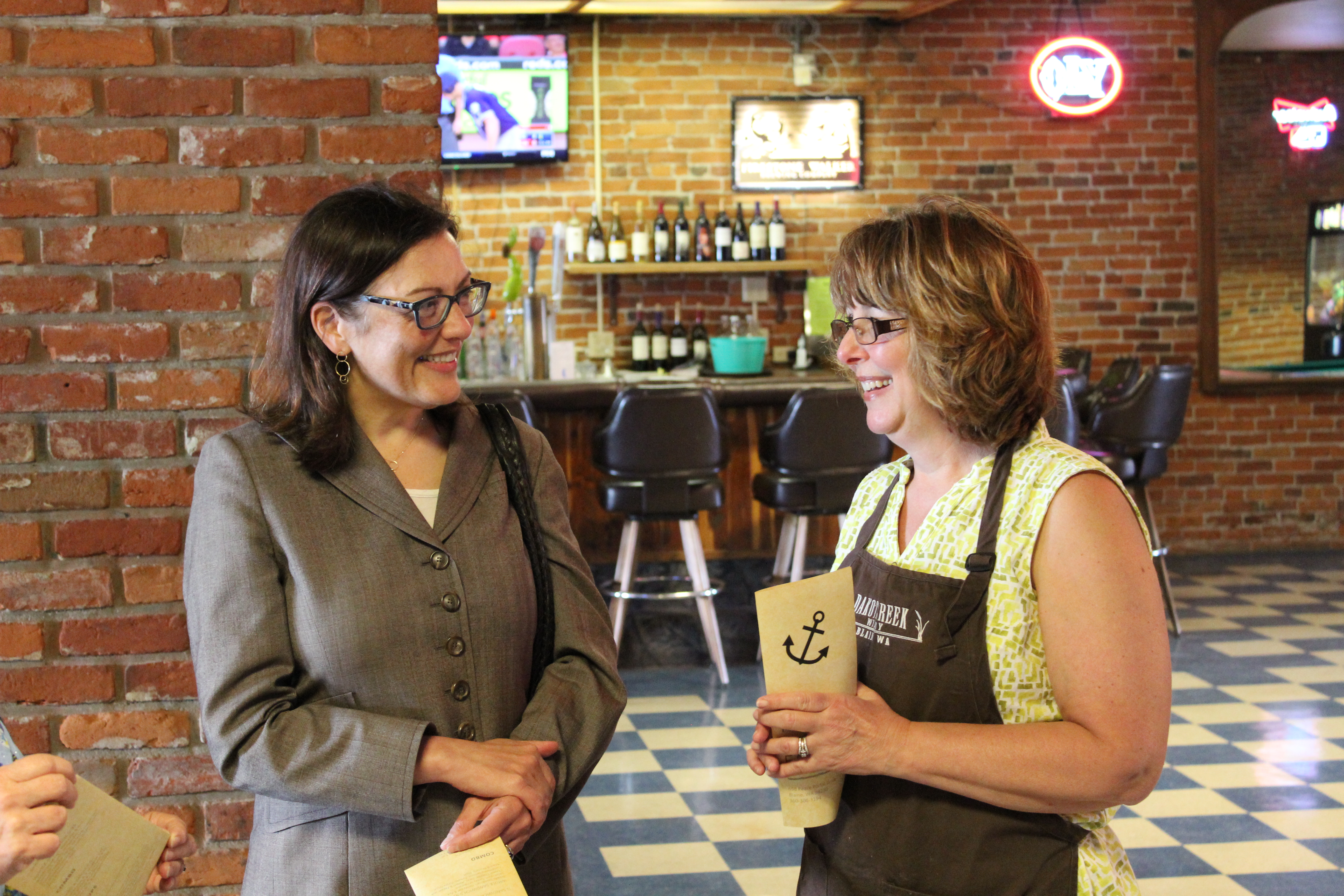 With many working families and businesses still struggling to adapt to a rapidly changing economy, my top priority in Congress is helping to ensure that every American can succeed in the 21st century, to expand opportunities and invest in the foundations we need to sustain long-term economic growth and security.
Our nation continues to lead the world in innovation, productivity and ingenuity -but there are still too many Americans who can't find full-time work or wages that support a family. That's why I am engaging with small businesses, farmers, tribes and families across Washington's First District to identify where we are failing to give workers of all backgrounds the tools they need to succeed.
Nowhere in the country is the economic impact of innovation and entrepreneurship more visible than in Washington's First District, where our local industries — ranging from aerospace, manufacturing, high-tech, agriculture, clean energy and healthcare — are driving the economy forward. Our district helps build the world's best airplanes, grows the finest food and designs world-class software. But growing an economy that works for everyone means making strategic investments in education, research and infrastructure; equipping American workers with the skills they need to compete in the global economy; fixing our broken immigration system; pursuing a balanced approach to deficit reduction; reforming the tax code to ensure fairness for working families and small businesses; and opening up new markets for U.S. exports.
To spur robust job growth, we must expand access to opportunity and build an economy in which anyone willing to work hard can get ahead and build a better future for the next generation. We must make investments in our education system to provide the training and skills workers need to be prepared for the jobs of today and tomorrow. We must also support our colleges and technical schools that can help prepare the next generation of farmers, manufacturers and innovators.
While there is much more work to be done, here are some of the steps I've taken to promote an economy that works for everyone:
Job Training. Long-term economic growth and prosperity require a well-trained workforce. The 2014 Farm Bill included $200 million to fund my proposal to expand job-training programs for Supplemental Nutrition Assistance Program (SNAP) recipients to learn the skills they need to get a good paying job. The programs funded by this pilot were based on Washington state's successful Basic Food, Employment & Training program.
Apprenticeships. We need a national commitment to addressing the skills gap through federal policies that promote apprenticeships and meet the needs of our evolving workforce. That's why I added an amendment to the Accelerating Individuals into the Workforce Act (H.R. 2842), which helps people find good-paying jobs in high-demand industries through apprenticeships. The bipartisan Accelerating Individuals into the Workforce Act directs $100 million in the Temporary Assistance for Needy Families (TANF) program to support workforce development pilot projects for TANF recipients. My amendment requires at least one of the projects funded under the bill be an apprenticeship program — ensuring low-income TANF recipients can reap the benefits afforded by apprenticeships.
STEAM Education. We should be forward-looking as technological advancements like artificial intelligence and automation dramatically shift how our economy works. If we hope to prepare our children for the jobs of tomorrow, it's absolutely critical that we do more to expand computer science education, foster innovative and creative learning, develop critical thinking skills and support STEAM education (Science, Technology, Engineering, Arts and Math).
Promoting Commerce. Representing a district on the U.S.-Canadian border, I have been a leader in the effort to ensure the efficient and effective flow of goods and tourists across our borders to support our economy. I introduced H.R. 1886 to prevent the creation of a land border crossing fee in order to protect vital cross-border travel and commerce in Washington state. I was pleased that the omnibus government funding bill enacted in 2014 included a provision that prohibits the Department of Homeland Security (DHS) from implementing any land border crossing fee.
Helping Local Businesses. I helped introduce the bipartisan Remote Transactions Parity Act, which would allow local brick-and-mortar retailers to compete more effectively against out-of-state Internet retailers that do not collect sales taxes. This legislation would close the current tax loophole that has prevented states from collecting existing sales taxes on online purchases. I remain committed to bringing this important legislation to the House floor this year.
Supporting Women-Owned Businesses. I introduced the Women's Small Business Ownership Act, which is aimed at improving access to capital and increasing business counseling and training services for women entrepreneurs.
Preventing the Outsourcing of U.S. Manufacturing Jobs. I passed an amendment into law ensuring U.S. military agencies — including the Army Corps of Engineers — are purchasing anchor and mooring chain from American manufacturers, not foreign suppliers. My amendment was attached to the Energy and Water Development Appropriations Act for FY16 (H.R. 2029), and it was retained in subsequent funding legislation for FY17 (H.R. 5055). This effort helps prevent the outsourcing of manufacturing work conducted in Washington's First District, and prevents federal agencies from using taxpayer dollars to purchase imported foreign chain, primarily from China and Korea.
Ensuring Rural Communities Can Compete in the 21st Century. I introduced the Timber Innovation Act (H.R. 5628), bipartisan legislation that boosts research and innovation while supporting rural economies, sustainable forest management and the environment. The Timber Innovation Act would spur the use of tall wood building construction through the use of less expensive and less carbon-intensive building materials, like cross-laminated timber (CLT). While wood has been used as a building material for centuries, through modern advancements, buildings can now be constructed with wood products that are more flexible, less flammable, and sturdier than ever before.

With determination and a willingness to look past partisan divides, Congress must come together to find solutions to spur job growth, build strong communities and create an economy that works for everyone.

See also information on Jobs and resources for Businesses
---