Press Releases
DelBene, Gluesenkamp Perez, Kilmer Offer Amendment to Protect Pacific Northwest from Offshore Drilling
Today, Congresswoman Suzan DelBene (WA-01) offered an amendment to legislation slated to be considered in the House of Representatives this week that would protect the Pacific Northwest from offshore oil drilling. The amendment is co-led by Representatives Marie Gluesenkamp Perez (WA-03) and Derek Kilmer (WA-06).
The Republican-led Strategic Production Response Act (H.R. 21) would limit the drawdown of petroleum in the Strategic Petroleum Reserve until the Department of Energy develops a plan to increase the percentage of federal lands leased for oil and gas production. It is expected to be voted on in the House later this week.
DelBene's amendment would prohibit the Department of Energy's plan from including offshore drilling in the Washington/Oregon Planning Area that encompasses the coasts of the two states.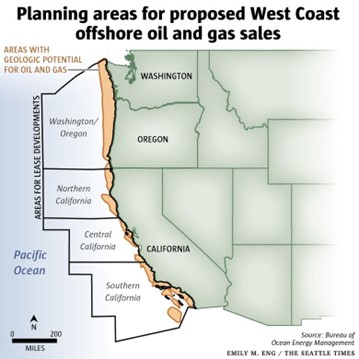 Source: Seattle Times
"Protecting our environment is foundational to the Pacific Northwest's heritage, culture, and quality of life. The federal government should be focused on transitioning to greener energy sources, not increasing the risks of disastrous oil spills in our region," said DelBene. "My amendment would protect the Washington and Oregon coasts from the fossil fuel industry's dangerous efforts to expand offshore drilling."
"The health of Southwest Washington's economy depends on a clean Pacific Coast and ocean ecosystem," said Gluesenkamp Perez. "Preventing offshore drilling in the region will both protect our environment and way of life, and I'd like to thank Reps. DelBene and Kilmer for their leadership on this critical issue."
"For decades, Democrats and Republicans agreed that opening the waters of the coast of Washington up to drilling would be shortsighted and wrong. Doing so would threaten our fisheries, shellfish growers, tourism, and jobs in other key sectors of our economy," said Kilmer. "Rather than expanding drilling and promoting policies that put the health of our coast and climate at risk, Congress should pursue efforts to produce more renewable energy. Producing more renewable energy — with a particular focus on becoming more energy independent — will not only protect our marine ecosystems, but will also safeguard our economic and national security interests."
DelBene has a long history of protecting the region's environment by opposing offshore drilling. She has been a cosponsor of the West Coast Ocean Protection Act for multiple Congresses, which would prohibit new oil and gas leases off the coasts of California, Oregon, and Washington.
In 2018, the Trump administration tried to open nearly all waters off the nation's coastlines to oil and gas drilling, including a major new lease sale off Oregon and Washington. DelBene and members of the Washington Congressional delegation opposed the plan and it ultimately never moved forward.
The text of the amendment can be found here.